Local Pinball Machines Ranked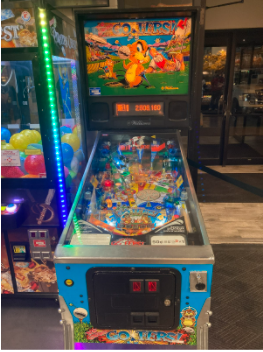 Pinball is a fun game that many people enjoy. There are fun themes, such as movies and tv shows. They are relatively cheap at 50 cents a game. Idaho Falls and Ammon have a good selection of pinball machines, but which one is the best? Keep reading and you will find out.
Paramount theater in Ammon Idaho tends to rotate their pinball tables. In the past 6 months they have had a Star Wars table, a Lord Of The Rings table, and right now they have a golfing themed table, called No Good Gophers. The table is pretty fun, but can glitch sometimes. Overall not a bad table. Skyline lanes has two pinball tables, a Jurassic park table, and a junkyard themed table. Both are maintained really well. Both are fun, though I prefer the junkyard themed table. The Jurassic Park table is the most expensive table at one dollar per play. Leo's place has two tables, a fishing themed table, and a south park table. The fishing table is not well maintained, but the south park is. The south park table is one of the most fun tables I have played. Both are slightly cheaper than the other tables in town, due to Leo's Place token system. Lucy's pizza has a Martian invasion table it is well maintained, has a great theme, and has a fun playing experience. It is clearly the best one in town.
      My ranking of the the tables is as follows:
Revenge From Mars, Lucy's Pizza Ammon location.

South Park, Leo's Place.

Junk Yard, Skyline Lanes.

No Good Gophers, Paramount Theater.

Jurassic Park, Skyline Lanes.

Fish Tales, Leo's Place.